Frequently Asked Questions
Whilst there are plenty of different staking strategies and various preferences when it comes to a strategy we provide a standard staking plan which we advise you to use and then adapt over time to your betting style.
In this FAQ we will be providing you with some pointers to get you started on your betting journey, it is then up to you to chisel a staking strategy into your own as you grow in experience.
At N1T, we use a fixed percentage strategy for members that are new. This requires a little bit of simple maths and is a very effective method for building your pot every month.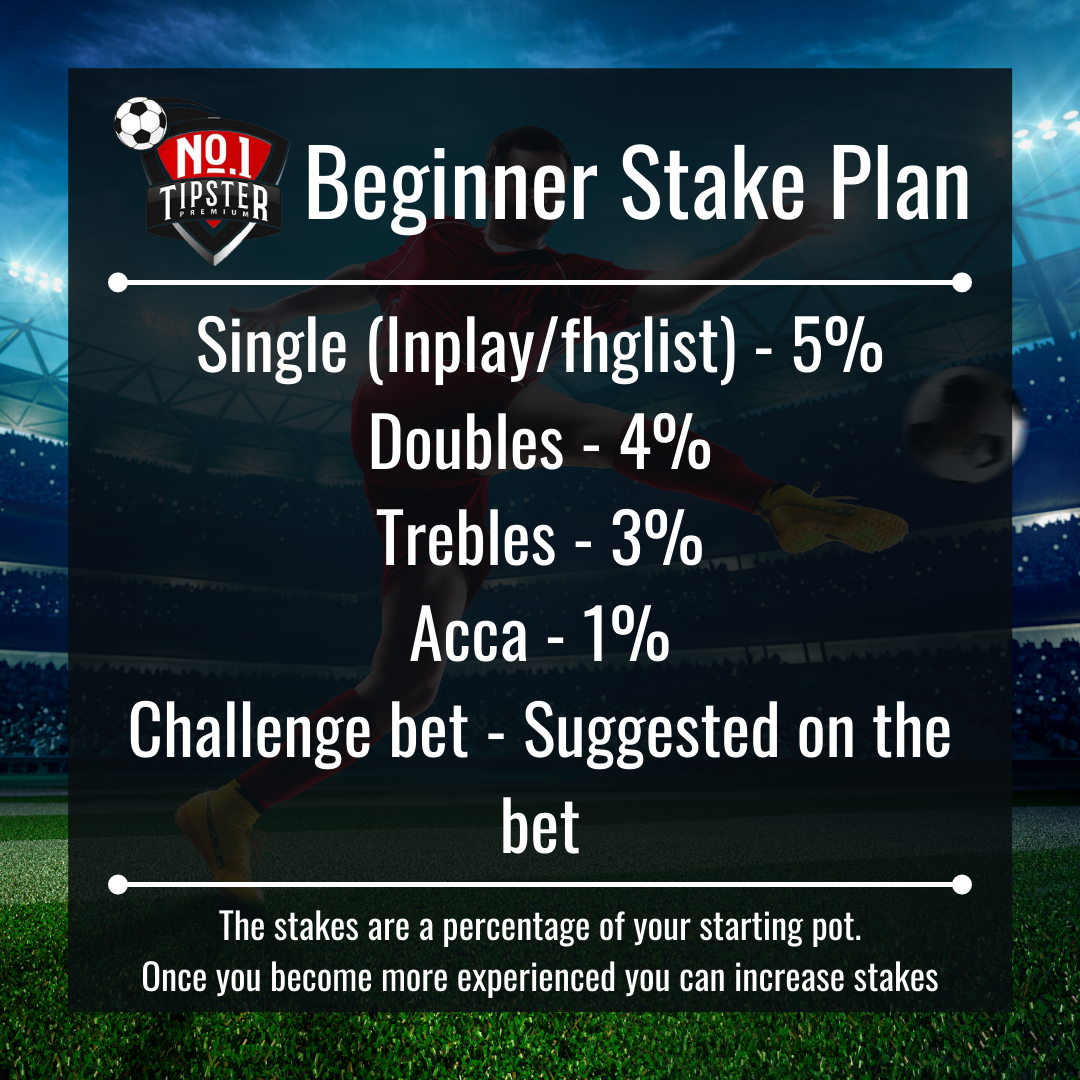 To get started you should put aside some money that you are willing to bet with.
For some, this may be £100 and for others, this may be £1000. You won't be betting all of it at once but one of the major reasons for this is so that you're separating this from your personal money.
Remember when betting, never risk more than you can afford to lose
If you're unsure with how much to start within your pot, we recommend you to just start off with £100. The pot will always build up as you stay consistent with your betting and follow our tips anyway.
Example of a £1000 Pot:
Look at the staking plan we have attached, if we decide to stick to a Low Stake of 5% and we have a bankroll of £1000, we'll be betting £50 for every low stake.
If we win on 5.00 odds you'll now have a £1200 bankroll. At this point, you may be tempted to withdraw the money, but instead, you should put this back into your pot so that we can then recalculate that 5%  for Low Stakes. Your new amount would then be £60 for every low stake which with increase your winnings.
If we repeat this you will have enough profit that you can then choose to withdraw your initial pot and start betting with just your profit or you can keep growing your pot and your stakes which will mean that you will be compounding your profits and growing your pot.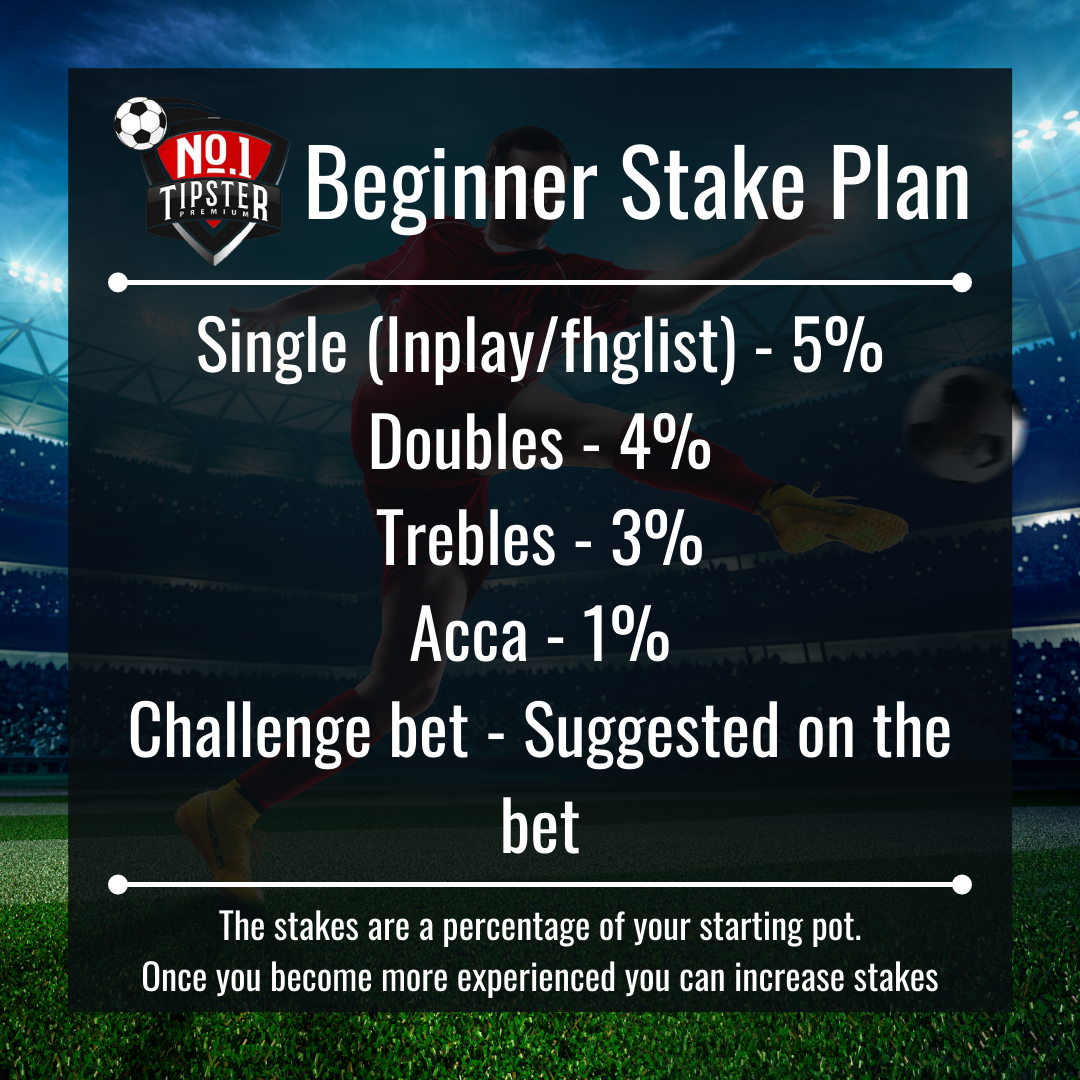 Bet sensibly and within your means! As you stay consistent your pot size will grow
Roller Bets
We have a specialist roller tipster who starts his rollers at £25 and aims to roll the winnings continuously until the challenge is completed by hitting over £100+.
If you choose to follow a roller bet you do not have to stake £25 as well. Keep it in line with your pot size, stick to a low-risk stake % you're comfortable with and as you become more experienced and your pot grows you can start increasing that amount.
Whats the difference between 0.5, 0.5,1 and 1 ASIAN goal-line?
This is a selection that we use on a regular basis within our premium group.
How does it work?
If 1 goal is scored
Over 0.5 goals = Winner
Over 0.5, 1 = Half win Half refund. 2 goals for the full win
Over 1 = Refund, 2 goals for the full win
If a goal is scored early using 0.5, 1 and 1 goal-line the cash out will be close to full. Therefore we give the option the cash or ride risk-free as a worst-case scenario will be a refund on over 1 goal-line and guaranteed profit banked in 0.5, 1 selection.
If you're struggling we also wrote a full article on Asian Handicap betting here
Which Bookmaker should I use for Asian Lines?
We use Bet 365 as it has the most inplay options and Asian lines.
How does the FHGLIST work?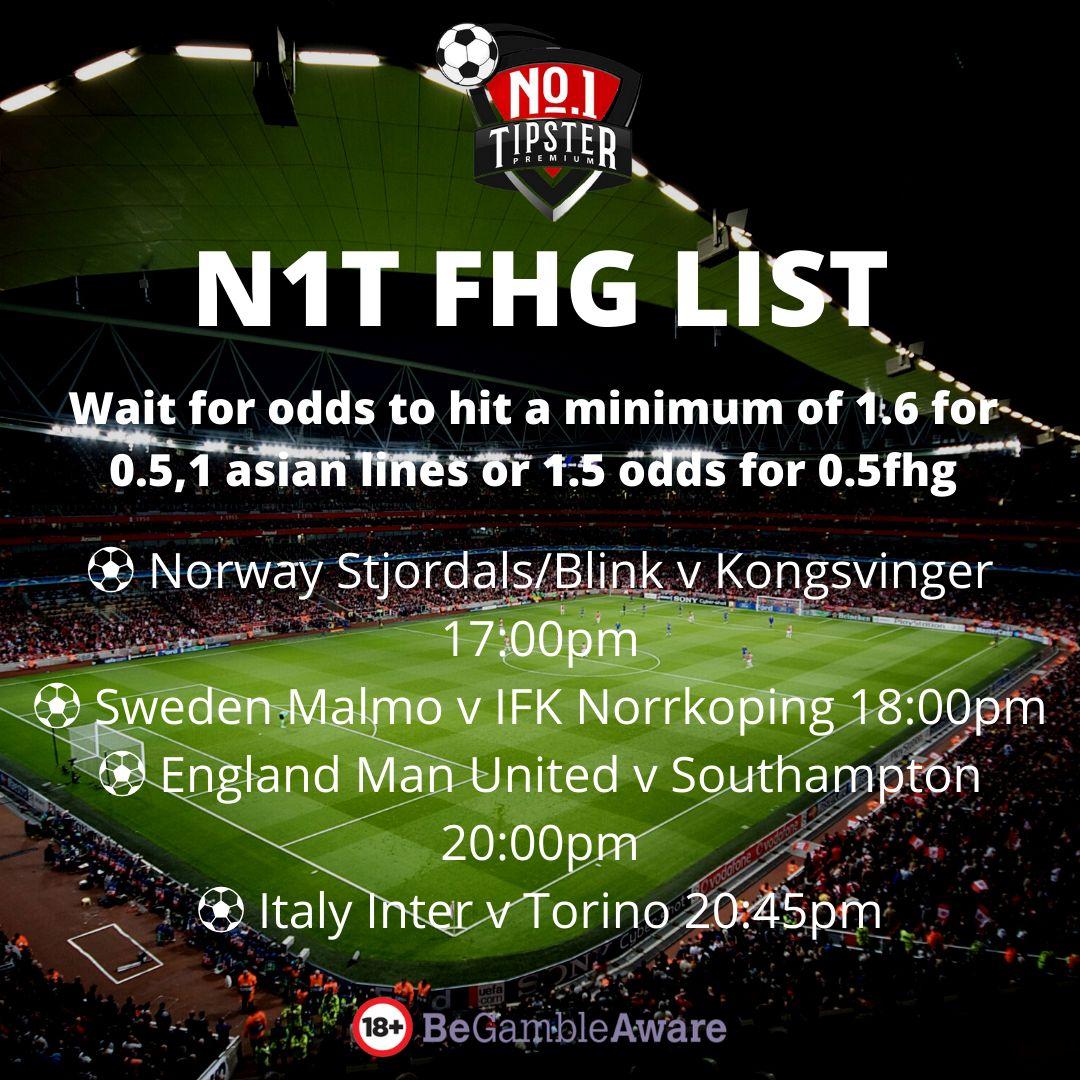 What is FHG?
FHG means First Half Goals. We do First Half Goals before 10 am every day.
This list is designed for those members who miss the inplays throughout the day due to work, timezones or other commitments but anyone can follow along as they prove to do quite well!
How does it work?
We select 4-6 games with High FHG (First Half Goal) statistics for that day and we recommend when to put the tip on.
We generally like to wait until odds hit 1.6 using over 0.5, 1 goal-line or 1.5 odds on over 0.5 FHG. 
We recommend doing these selections as singles.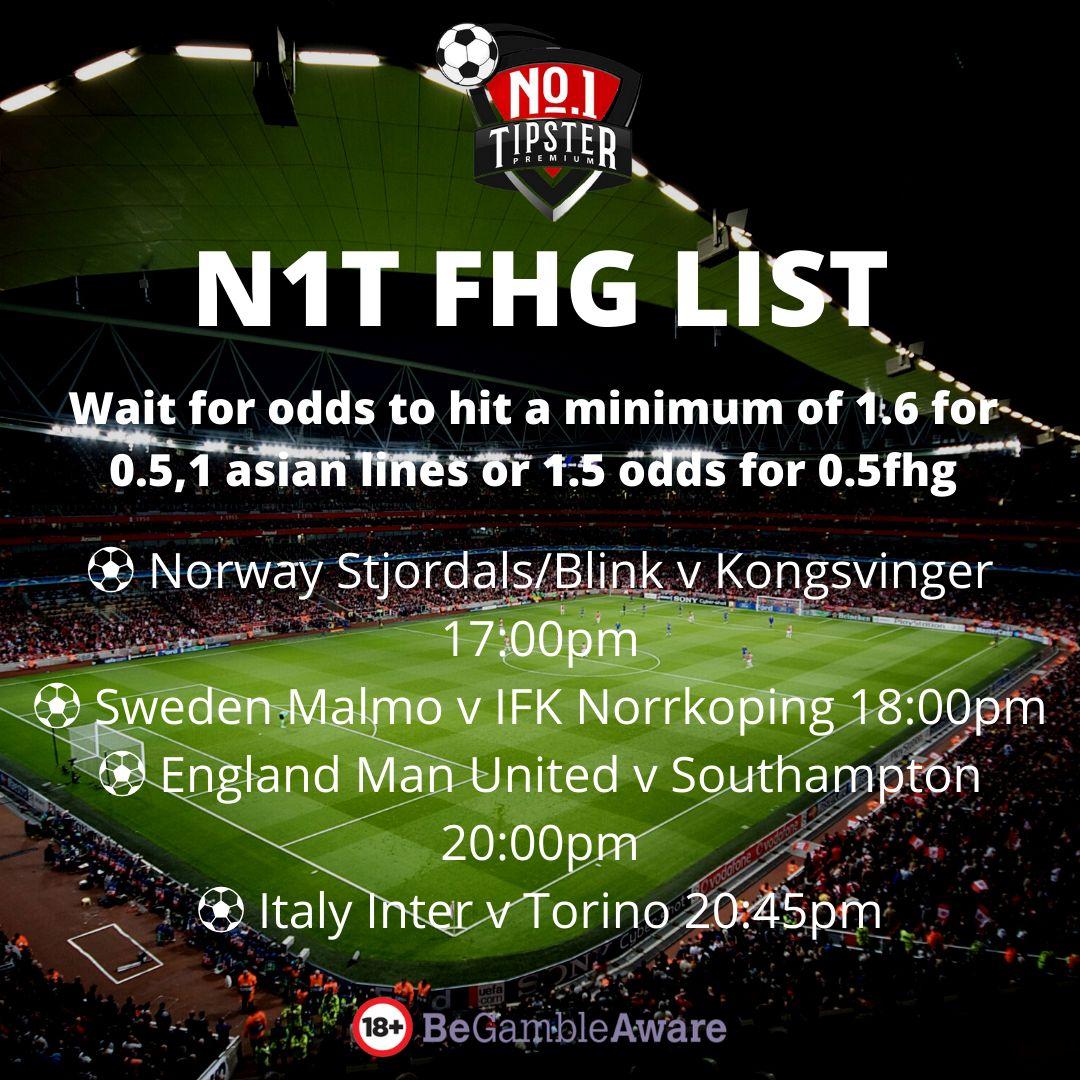 We have two tipsters on our team who are completely dedicated to Horses.
We first tip our best horses like this:
NAP is the bet of the day
NB is 2nd best
NNB is 3rd best and so on
The tips you see is the time of the race followed by the
horse name, odds when tipped and track race is on.
We always suggest very low stakes on horses as they are
higher risk than Football.
The way you bet is up to you but we suggest you stick to this structure if you're just getting started:
1 point on the win
Bets and 0.5 points on Each Ways as it makes 1 point.
For example:
1 point could be £10/10p on win bet up to 4/1 odds. And £5/50p on EW which makes £10/£1.
 So anything below 4/1 tipped is a win bet and anything above 4/1 is EW or cover bet.
We first tip our best dogs as the following:
NAP BEST OF THE NIGHT
NB 2ND BEST OF THE NIGHT
TBL 3RD BEST OF THE NIGHT
L15 4TH BEST OF THE NIGHT
L31 5TH BEST OF THE NIGHT
L63 6TH BEST OF THE NIGHT
HEINZ 7TH BEST OF THE NIGHT
Possible combinations
NAP AND NB.. DOUBLE
NAP NB AND TBL.. TREBLE/ TRIXIE
NAP NB TBL AND L15 4 FOLD ACCA
NAP NB TBL L15 AND L31 LUCKY 31
A Lucky 31 bet gives you: 5 single bets, 10 doubles, 10 Trebles, 5 four-fold accumulators plus one five-fold ACCA
A Super Heinz Bet is a bet on 7 selections taking part in different events consisting of 21 Doubles, 35 Trebles, 35 Four-Folds, 21 Five-Folds, 7 Six-Folds, and a Seven-Fold Accumulator totalling 120 bets. 2 selections must win to ensure any returns. Max stakes 10p with a total outlay of £12
We always suggest very very low stakes on greyhounds as they are higher risk. 
Please ensure you tick the 'no reserve' box on each bet. This ensure you are betting solely on the dog not the trap. If this box is NOT ticked and for any reason the dog is withdrawn, a replacement dog is entered into the race and your bet will be placed on this replacement dog.
For every person, you invite and converts to the premium package you will receive £20 for the first month and £5 recurring for every month they stay.
They will also receive the 7 day free trial to experience the community and what N1T have to offer.
Share your referral link on Facebook, Instagram and Facebook and get people involved! Anyone can start referring their friends and family. Simply visit the link below and copy your affiliate referral link that was automatically generated. Once you've shared that link, friends and family need to click on that link and order the subscription they want. You'll get a notification once you've earned a new referral.
There is also an option to apply all your referral credits to your subscription which can help you reduce it. By default we will pay you through Paypal to the email address on your account.